SIGN UP COUPON OFFERS,£35 OFF £200+,CODE:WELCOME
BUYER'S GUIDE
We've gathered all of our parts knowledge and tied it with our site to create buyer's guides to help you purchase the right car parts.
SEE MORE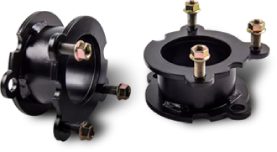 SUBSCRIBE AND GET 15% OFF DISCOUNT
MaXpeedingRods was established in 2006 and is a company specializing in auto parts and accessories. More than 4,000,000 customers buy auto parts from our website. In MaXpeedingRods, you can not only buy racing car parts, but also family car parts.

MaXpeedingRods has strong independent research and development capabilities, industry-leading quality control capabilities, and a complete logistics and after-sales service system. In 2009, MaXpeedingrods opened warehouses and branches all over the world. We have warehouses in Asia, North America, Europe, and Oceania, and we will continue to expand in the future. In 2012, maXpeedingrods established a research department to specialize in academic research on modified cars. maXpeedingrods relies on modern laboratories, production and testing equipment and advanced technology to research and develop various performance products, such as connecting rods, crankshafts, pistons, coils and air suspensions for high-performance modified cars. We always adhere to contribute to global car modification enthusiasts and global racing culture with excellent products and services.
In 2016, maXpeedingrods established its own racing team. In addition, we have sponsored various amateur racing teams to help them realize their dreams.
We provide the most various products for your car to choose from.
The connecting rod is an engine component that transmits motion from the piston to the crankshaft and serves as a lever arm. The connecting rod of MaXpeedingrods is forged from Forged 4340 aerospace steel, with a unique titanium plating process (after heat treatment, it has good strength and good comprehensive mechanical properties, good manufacturability, high yield, and the maximum usable temperature is 427 degrees) , Has the highest strength and durability. Specially used for street and racing vehicles. MaXpeedingrods cooperates with the world's top bolt manufacturer ARP, professional design and precision machining center assembly line manufacturing.
Coilovers is an automobile suspension device. When passing through uneven roads, the shock-absorbing spring can filter the vibration of the road, but the spring itself will also have reciprocating motion. The shock absorber is mainly used to suppress the shock and impact from the road when the spring bounces after absorbing the shock. The coilovers of MaXpeedingrods are adjustable with 24 levels of soft and hard damping. The top connecting plate is forged from 6061 aluminum with T6. Pillow ball upper mount: In addition to the more direct advantage of the force transmission of the metal tower top, it can also be used to change the camber angle (CAMBER). Imported anti-attenuation anti-high temperature special racing shock absorber oil. High-tension spring-after 600,000 repeated tests, the deformation rate is less than 0.04%. Special surface treatment improves performance and durability. Help you adjust the height of the car and improve the suspension function: improve the handling and comfort of the whole car
The crankshaft is a shaft that transmits the power generated by the engine to various parts of the vehicle. Crankshafts are commonly used in internal combustion engines and consist of a series of cranks and crank pins to which connecting rods are attached. MaXpeedingrods' crankshaft is made of 4340 EN24 cast aviation chromium molybdenum steel. It has high strength wear resistance and corrosion resistance, reducing oil pressure loss. Increase the strength of the original crankshaft to 200%, and it can withstand up to 1000BHP.
A turbocharger is a forced-intake device driven by a turbine, which improves the efficiency and power output of the internal combustion engine by forcing excess air into the combustion chamber. The turbocharger of MaXpeedingrods has a stainless steel volute that can withstand a high temperature of 1050 degrees Celsius. Aluminum alloy blade, CNC precision machining and forging. Precise dynamic balance.
Maxpeedingrods produces a full range of air heaters that provide performance and versatility in medium and low temperature applications. Supply air heaters for your car. It can be applied to small trucks, large trucks, light trucks, heavy trucks, pickups, vans, buses, automobiles, SUVs, boats, caravans, forklifts, electric tricycles, construction vehicles, yachts, etc.
Whether you are a weekend enthusiast or an enthusiastic track and field racer, MaXpeedingRods can provide you with hundreds of winding applications, large brake kits, lowering springs, air suspension, suspension adjustment components and accessories, Air Suspension, Air Pump, Air Suspension Bag, Control Arms, Lift Level Kit, Turbo Cartridge, Timing Parts, Wheel Parts, EGR Valve and many other auto parts. All MaXpeedingRods products are designed, manufactured and tested in our state-of-the-art manufacturing plant and meet the highest quality control standards.
Whether it is used in racing or ordinary driving, MaXpeedingRods is committed to providing you with affordable auto parts.
SEE ALL

CLOSE UP